Grana Global Campaign
Photography and video for a global campaign, shot in Hong Kong and New York, featuring Grana's line up of internationally recognised artists, celebrities and ambassadors.
Lips Creative was commissioned by Hong Kong-based fashion disruptor, Grana, for the photography and video production of its Spring/Summer 2018 campaign.

Drawing on its extensive network of industry contacts, Lips Creative assembled a production team of experienced creatives in Hong Kong and New York to facilitate the week-long shoot.

Management of the high-calibre talent participating in the shoot called for flawless scheduling, taking into account the dual-city production and busy calendars of the GRANA ambassadors, many of whom are internationally recognised artists and celebrities.

Lips Creative's Christopher Polack directed the shoots in Hong Kong and New York with the challenge of maintaining consistent personality and aesthetics in the vastly different locations.

Polack's portraits of Grana's ambassadors featured throughout the label's website, social media channels and throughout pop-up stores in New York and Hong Kong.

Cara Mcilory - Model
Fashion and glamour model who featured in a number of publications including Elle, Harper's Bazaar, and Marie Claire. In 2017, she was one of the celebrity judges on the fifth season of Asia's Next Top Model.
James Goldcrown - Artist

James is an LA based artist.
Luke Grana - Entrepreneur

Founder and CEO of Grana, Luke cut his teeth in the fashion world interning on the sales floors of FCUK and Zara before moving permanently to Hong Kong in November 2013. During that year he established luxury ecommerce brand, Grana.
Luke successfully started and sold five previous companies in Australia in lead up to the launch of the Grana brand.
Brianna Lance - Model, Actress, Creative

Brianna Lance has lived many lives. She has served as head designer for women's fashion brand, Reformation, been the front woman for a girl band, Bad Girlfriend, and worked as a contributing editor for So It Goes, a biannual magazine championing new and unique voices. She is now an ambassador for Grana, bringing her fresh style and industry know-how to the brand.
Lips Creative recruited renowned fashion filmmaker, Chris Vongsawat. Under Polack's direction, New York-based Vongsawat produced sleek video content to complement the photography production.

The video content was created to bring even more depth and relatability to the campaign, while strengthening Grana's brand aesthetic.

Interviews with each ambassador told the story of how Grana fits seamlessly into their everyday, while B-roll footage incorporated into the final video edit gave a behind-the-scenes glimpse into their lives.

Nisha Dua - Venture Capitalist

Born in Australia to Indian parents, Dua grew up in a small town outside Sydney, eventually working as a mergers and acquisitions lawyer before going into management consulting for Bain Capital. Today, Dua splits her time between investing in women-led companies as co-founder and partner at BBG Ventures and supporting the next generation of females in tech through the #BUILTBYGIRLS platform.
Paul Donnelly - Celebrity Chef
Paul is executive chef of New York's
Chinese Tuxedo
, is well-versed in Asian cuisines that range from Japanese to Thai. Paul has made an imprint in New York City with his unique spin on Chinese-Australian classics.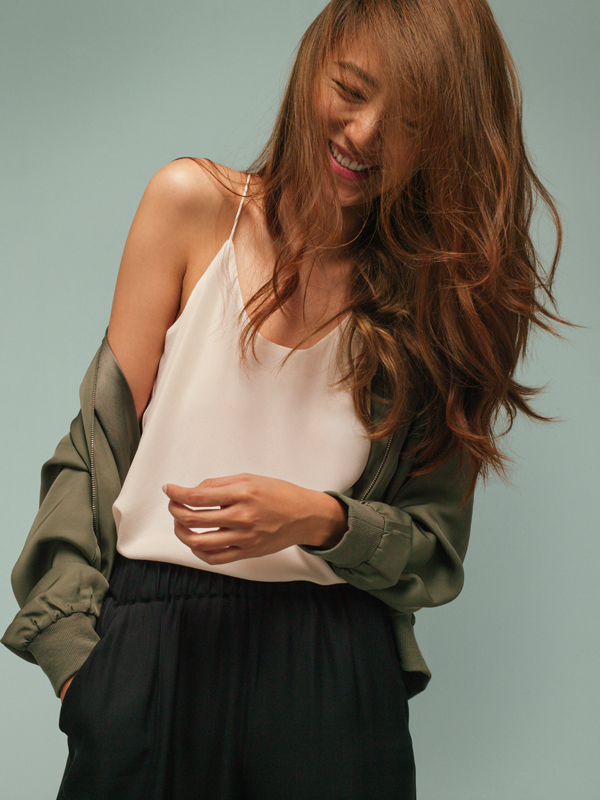 Elva Ni - Actress

Elva is a Hong Kong actress, model, television presenter, and yoga instructor.



A fashion retailer with online as its focus. Saving costs of typical store overheads and passing on the savings to the customer.

Grana's new disruptive model is simple: work with the best fabrics sourced from all over the world, cut out all the middlemen and have no physical stores.

'We stand for one simple thing: quality for all.

This is the ideal that informs everything that we do and everything we aspire to.

Each step of our process aims to disrupt the status quo of the apparel industry,
to bring you the best of the best, without the inflated prices – it's who we are.'
May Chow - Celebrity Chef
May runs restaurants in
Hong Kong
and
Thailand
. She was named Asia's Best Female Chef in 2017, and has used this as a platform to promote
LGBT
issues and help women find work in professional kitchens.